FHD Smart TV T5100
Family TV has something for each member of the family. Sports fans in your household will love Football Mode, which optimizes sound and viewing so they can make the most of the big game. You can use Screen Capture to quickly and easily capture content like a photo of your child's favorite animal, and Sound Capture lets the family's music lovers record audio clips of songs. Family TV is even equipped with Triple Protector, so it's protected against surges, lightning and humidity.*External storage device required for capturing audio or screen content *For personal and non-commercial use only. Usage is subject to the service provider agreement and may not be available in all regions.
All the excitement of the big match with Soccer Mode
With Soccer Mode, it's like you're actually at the match. It sharply and vividly brings out the green grass of the pitch and all the other colors of the stadium. A powerful multi-surround sound effect also lets you hear all of the excitement. You can even zoom in to selected areas of the screen for a better view. With just a push of a button you can make the most of your favorite sport with all your friends.
Discover a new reality in Full HD
Enjoy a greater level of home entertainment realism than ever before. Thanks to a resolution twice as high as standard HD TVs, your Samsung 40 FHD Smart TV T5100 delivers a breathtaking viewing experience that takes you beyond the screen into a world of total immersion. When you've seen the rich and vivid texture of Full HD images, your favorite TV programs and movies will never be the same again. Discover reality with a full high definition experience.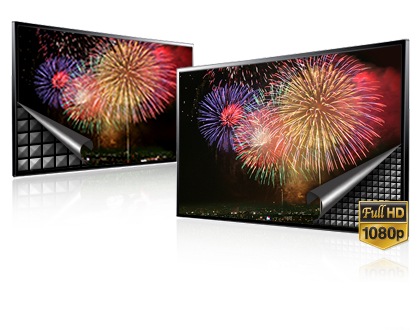 More vibrant colors for better images
Using an advanced picture quality improvement algorithm, Samsung's Wide Color Enhancer Plus drastically improves the quality of any image and uncovers hidden details. Now see colors as they were meant to be seen with Wide Color Enhancer Plus.
Watch movies from your USB
With ConnectShare Movie, simply plug your USB memory drive or HDD into the TV and instantaneously enjoy movies, photos or music. Now, you can experience a wide variety of content in the comfort of your living room on your TV.