Asciugatrice Ai Control Silent Dry
Artificial Intelligence Control
Dry your laundry more easily and efficiently with Artificial Intelligence Control. It offers you a special drying experience by remembering your drying habits, suggesting programs and showing information instantly. The SmartThings App* provides advice on scheduling, planning, and troubleshooting. And it automatically selects the perfect drying program for a wash programme**.
A+++ efficiency
A+++ Energy Efficiency with Heat Pump Technology
Protect the environment and save money by using less electricity*. Dry your laundry in an energy-efficient, cost-effective and delicate way with heat pump technology. It uses 'refrigerant' instead of electricity to heat the air and reuses the hot air inside to avoid wasting energy, thus offering A+++ energy efficiency.
* According to IEC 61121:2013 standards / 8 kg laundry load / DV80F5E4HGW model in the Ready-to-Use Cottons Drying Program with the Heat Pump function turned on and the DV80H4100CW model with the Heat Pump function turned off. Individual results may differ.
Dry in 81 minutes
Super Fast Program
Save energy and get clothes cleaned and ready to wear in just 2 hours at the same time. The Super Fast Program can dry your cotton and synthetic mixed laundry in 81 minutes*. And with the Super Quick Program function of your washing machine, you can wash and spin your clothes in 39 minutes*. Thus, you can wash and dry your clothes in a total of 2 hours.
* Samsung DV8000T has been tested at 3 kg load according to IEC standards.
** Samsung QuickDrive™ WW8000T tested at 3kg load according to IEC standards.
It causes less discomfort
Silent Drying
Do the laundry without disturbing the neighbors or waking the children. It has a built-in noise reduction system with its Silent Drying design. In this system, sound absorbing materials and algorithms that optimize the spin speed are used to minimize noise. As a result, it has a low noise level of 60dB*.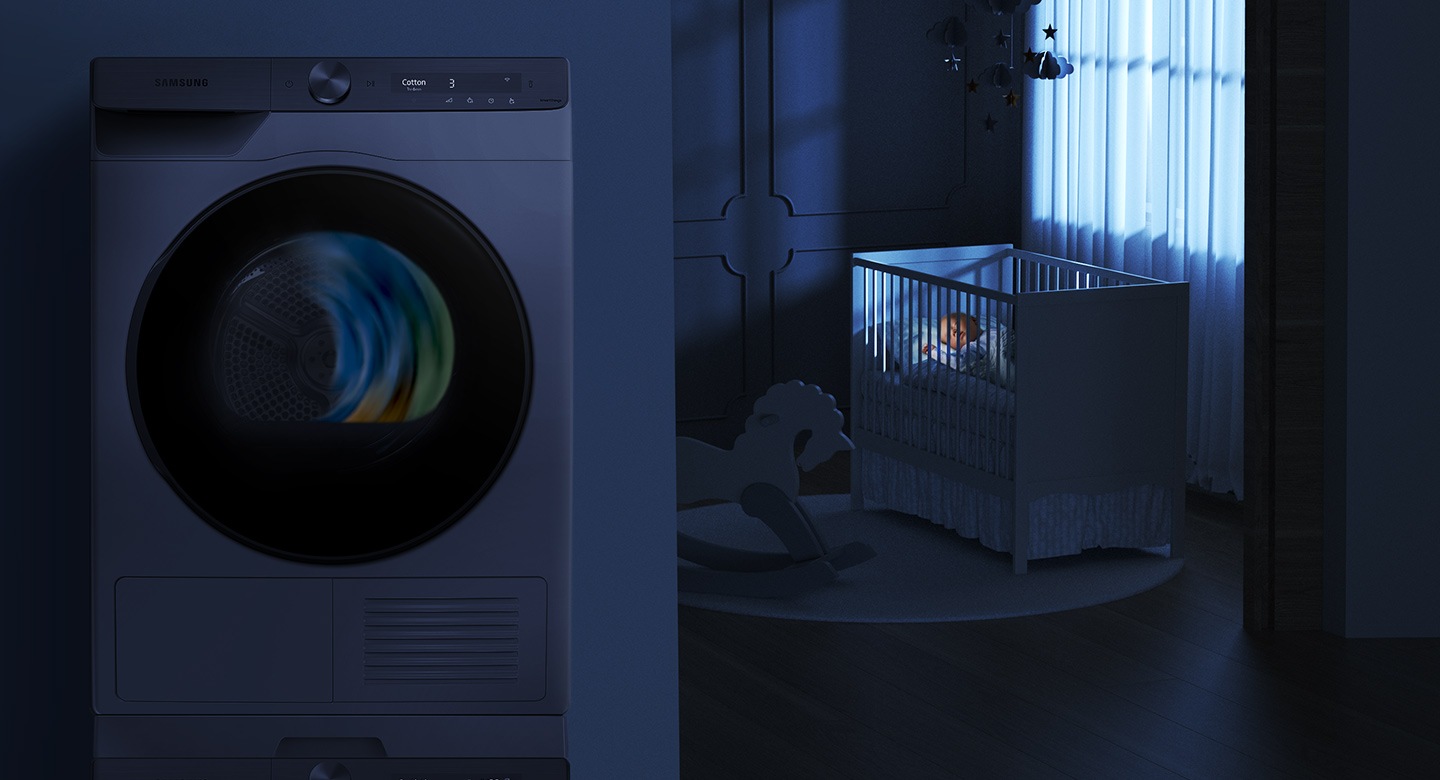 * Tested with Samsung DV8000T at 9kg cotton load.
Destroys bacteria
Hygiene Care
It prevents the formation of bacteria in clothes and other textile products such as sheets or soft toys. The Hygiene Care program ensures that both dry and wet clothes are disinfected without affecting the drying performance. Eliminates 99% of germs by applying high temperature heat**.
* 2 kg of dry laundry or 2 kg of wet laundry.
** Based on independent testing by Intertek. Individual results may differ.
Opens in any direction
Reversible Door
Choose the opening direction of the reversible door to suit the layout of your home. Cover opening direction; Easily change it to suit your machine's location, surrounding items, and the way you do household chores. This also means that the walls will no longer be in your way. Also, thanks to the transparent cover, you can see what's inside at a glance.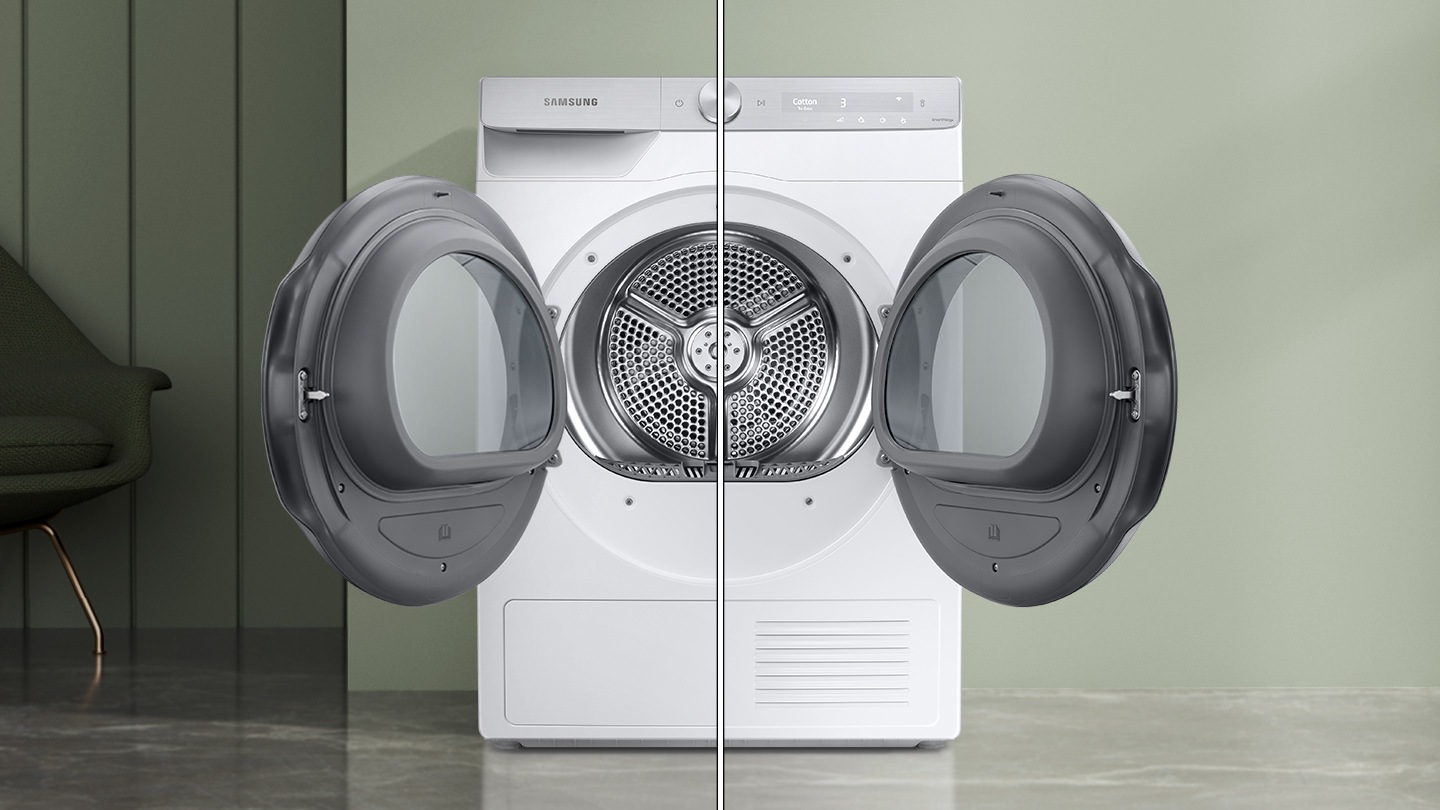 Wrinkle-free clothing
Anti-Wrinkle
Prevent your clothes from getting wrinkled without ironing. All you have to do is select the Anti-Wrinkle program and wait for the drying program to finish; It turns the boiler intermittently for 180 minutes without any heating. Thus, it prevents your clothes from staying on one side for a long time while they are hot and prevents the formation of wrinkles on the fabric.
It dries smart
Optimum Drying
Optimize your drying performance effortlessly! Optimum Drying uses 3 sensors to achieve the best result. It monitors the humidity and adjusts the drying time, so your laundry is ready quickly with minimal energy consumption. It also prevents damage to your clothes and reminds you to clean the Heat Exchanger.
Easy maintenance
2-in-1 Filter
Maintain your dryer easily and keep drying performance and safety at the highest level. The innovative 2-in-1 Filter has a two-layer mesh filter. This eliminates the need for a Heat Exchanger filter and is therefore easier to maintain. With two alarms it reminds you that the Filter and Heat Exchanger need to be cleaned.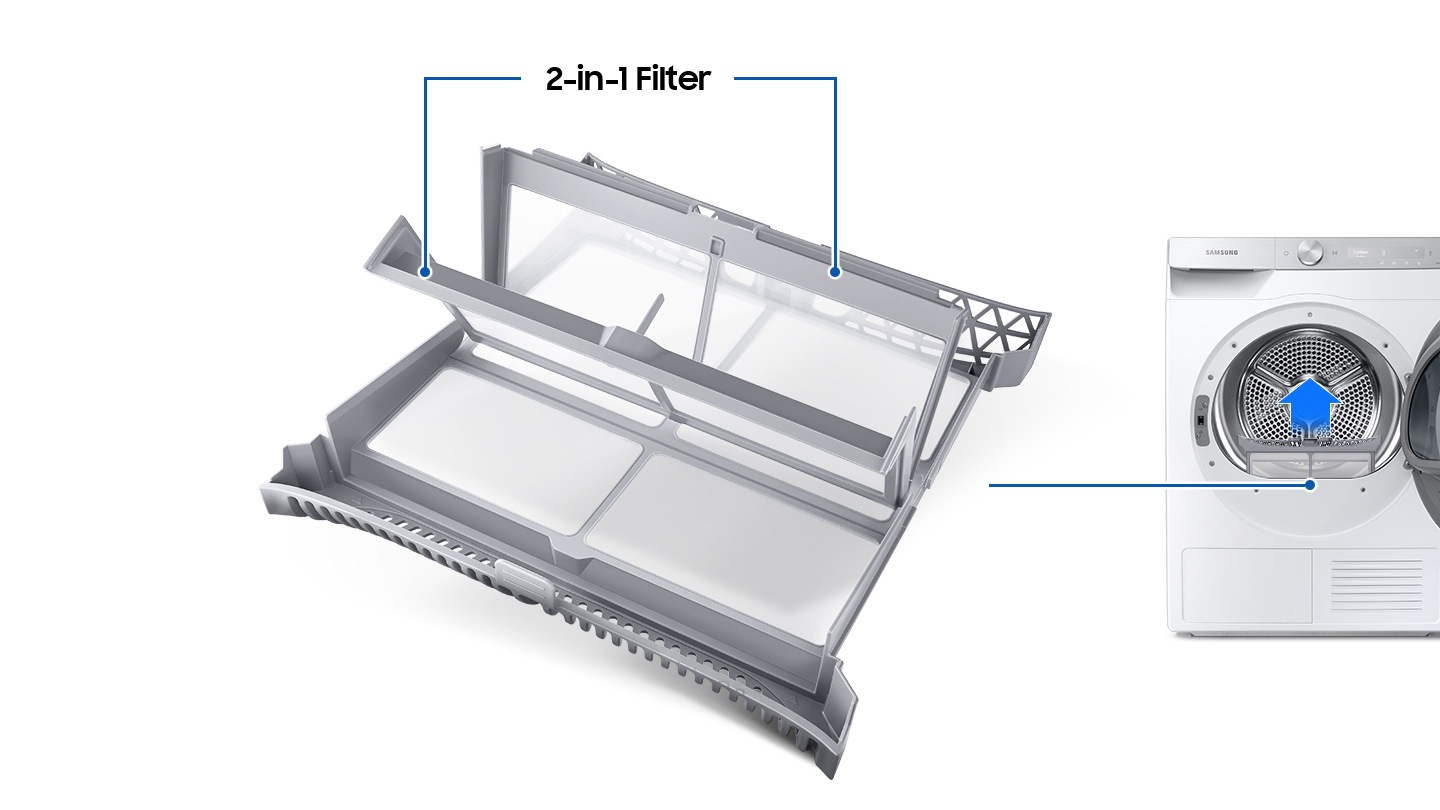 Removes odors by ventilating
Air Wash
Freshen your clothes without washing, boiling, rubbing, or using detergents. Air Wash technology deodorizes your clothes and linens so they always smell fresh. Removes unpleasant odors using super hot air. This way, your clothes look as if they have been dry cleaned and will last longer.
Fast drying at low loads
Quick Dry 35 min.
Dry your clothes quickly, such as a work t-shirt or school apron. The Quick Dry 35 min program dries your 1 kg low-load clothes in 35 minutes, ready to wear*. Safely dries small quantities of parts using high-temperature air, so you wait less; Dry only the clothes you need, when you need them.
* It may differ according to the fabric type.