French Door Refrigerator ( 26 cu.ft.)
Large Capacity
Stock-up all your food with a huge 26 cu. ft. of storage space. SpaceMax Technology™ creates more room inside without increasing external dimensions or compromising energy efficiency.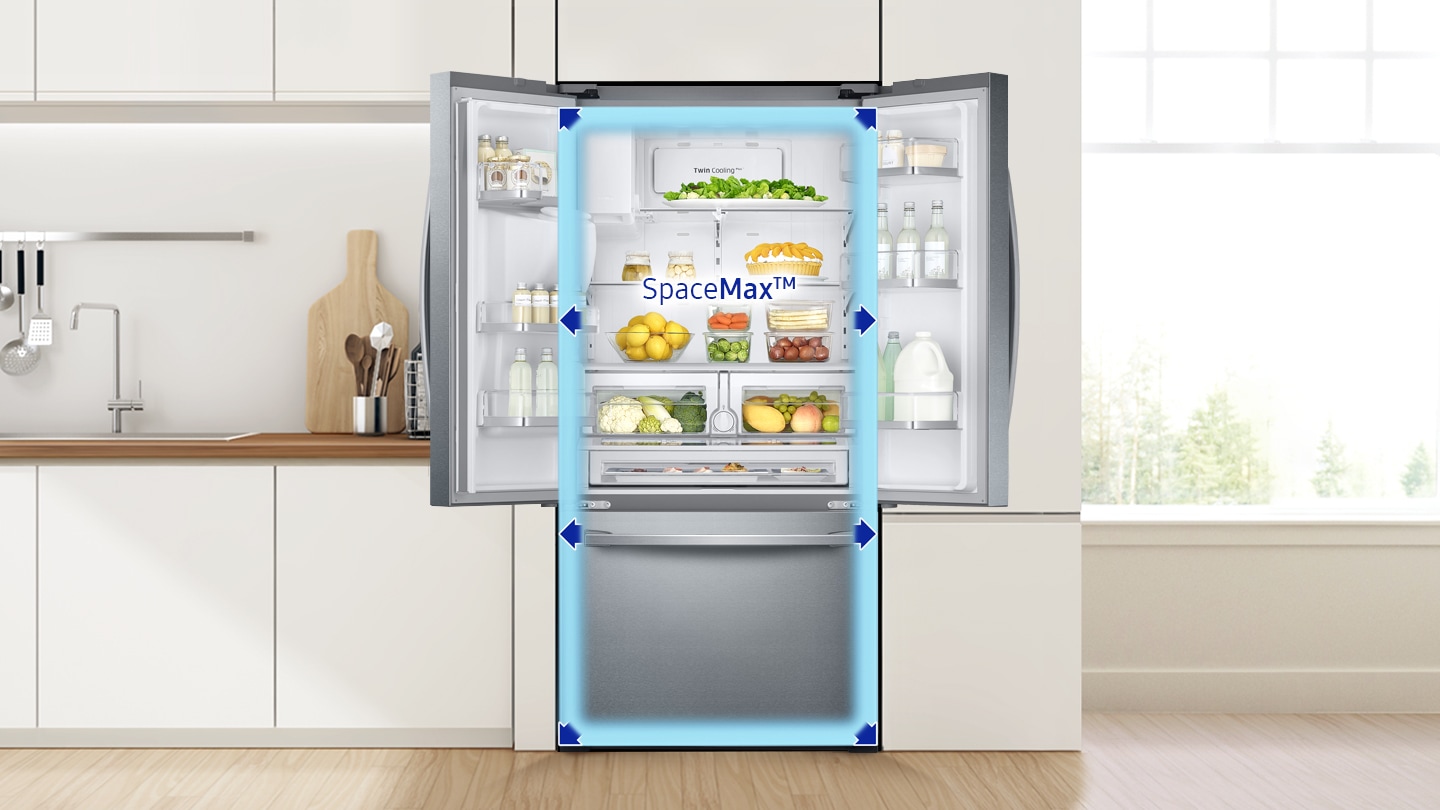 Moist, fresh natural tasting food items
Twin Cooling Plus™
Ensure your food stays more moist and fresh for longer*. Twin Cooling Plus™ optimizes the temperature and humidity in the fridge and freezer with independent cooling systems. It preserves food in the optimal conditions and protects its original flavor and aroma by preventing odors from mixing.
* Based on independent testing by Intertek compared with a conventional cooling system.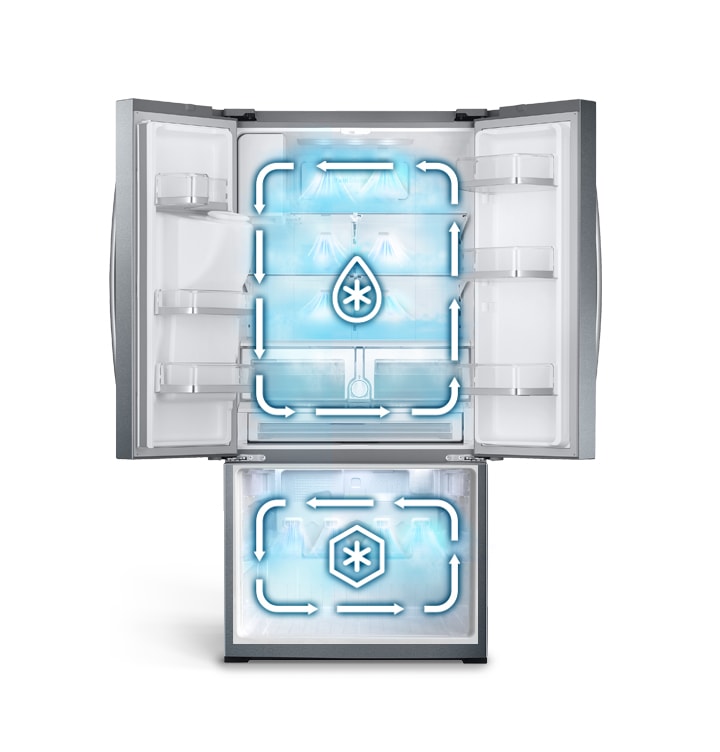 More ice & space with a slim ice maker
Ice Max™
The Ice Max's slim and compact design takes up less space, so there is more room to store food. But it can still produce up to 10lbs of ice a day and store up to 4.2lbs of ice, so you should always be good to go!
See in every corner with brighter light
LED lighting
Find ingredients more easily, while saving space and money with LED lighting. It is slimmer, brighter and more energy efficient than conventional lighting. So it creates more space for food, but brilliantly illuminates every corner. And its softer lighting is more comfortable on your eyes.
Open more easily
EZ-Open™ Handle
Open the drawer with a gentle pull using the EZ-Open™ Handle. Simply lift up the handle and it breaks the door's vacuum seal, enabling the drawer to glide open without having to pull hard, so it's ideal for children or the elderly. But the latch keeps the door securely shut.
Fresh filtered water and ice
LED Display with Water & Ice Dispenser
An external, Ice Blue LED Display allows you to control settings at the touch of a button. And the Water & Ice Dispenser provides a uniquely-tall opening so pitchers and tall glasses can be filled easily while enabling you to enjoy fresh filtered water with cubed or crushed ice.
Always brilliantly clean and smudge free
Fingerprint Resistant Finish
Make sure your kitchen always looks spotlessly clean. A special Fingerprint Resistant Finish prevents surfaces from becoming covered in unsightly fingerprints and other marks and smudges. And they can be quickly wiped away if any do appear. So your home will stay looking flawlessly beautiful.
Keep food fresher
CoolSelect Pantry
The CoolSelect Pantry provides the optimal humidity level to keep different foods at their best. This full-width drawer has a flip-open top and a choice of adjustable temperature control, so you can keep whatever you're storing outstandlingly fresh and tasty.
Fast cooling and freezing on demand
Power Cool & Power Freeze
Enjoy a rapid cooling performance. At the touch of a button, Power Cool blows intensely cold air into the fridge to quickly cool your groceries or favorite drinks. Power Freeze delivers a fast blast of cold air into the freezer. It's great for freezing or firming up frozen food and making ice.
Two humidity-controlled drawers
Crisper Drawers
Preserve the original texture, flavor and taste of perishable food for longer. You can adjust the humidity in crisper drawers simply by spinning the control knob. It creates the ideal environment for storing different fruits and vegetables, so they stay crisp, fresh and juicy.