Gas Range with 22K double burner More stylish look
Bring more style, convenience and power to your kitchen. It adds a modern, built-in look by simply sliding in between cabinets. And it provides intuitive messaging and remembers your cooking habits. A 22k Double Burner also delivers powerful heat and precise control for fast and even cooking.
Upgrade to a modern and built-in look
Slide-in Design
Give your kitchen a premium and stylish built-in look. The slide-in design provides a modern and integrated appearance. Simply nestle it between your cabinets to upgrade the kitchen without remodeling.
Ready2Fit™ Guarantee: If your new Samsung 30" slide-in range does not fit your current 30" range space, you can receive up to $300 toward a cabinet retrofit. Offer Valid from June 1, 2020 – December 31, 2021. Learn more
A simply more intuitive way to cook
Intelligent Control
The new Samsung Range offers intuitive messaging on an LCD, one knob and minimum buttons. The oven also remembers your cooking habits, or you can save your favourite settings or hide modes. In addition, it includes a number of safety features and provides easy troubleshooting.
Powerful heat & precise simmering
18K Burner
Cook dishes quickly and evenly using the powerful heat and precise control of the 18K Burner. It can rapidly go to a high heat for searing meat, like a steak, and boiling water in a flash. Or you can turn it down to a gentle simmer, which is ideal for melting chocolate or heating milk.
Illuminated Knob
Worry less with the added peace of mind with the Illuminated Knob. You can easily check if the burners are on or off at a glance, even from a distance. The large, ergonomic design of the metallic knobs makes the knobs easy to grip for precise temperature control. And they add a stylish, premium look.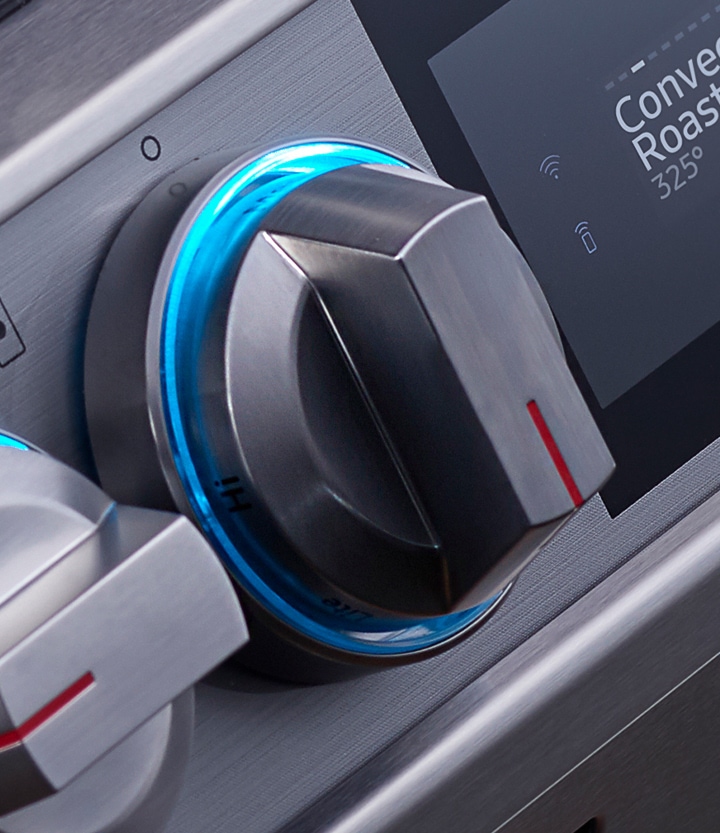 Fries food using little oil
Air Fry with Tray
Air Fry combines a special tray with hot air circulation that envelops food. It's the ideal way to cook French fries, Tater Tots or even vegetables as it eliminates excess fat while leaving the food still crispy and brown on the outside and juicy on the inside. The air fry tray included with purchase is specially designed with easy to grip handles and raised legs for optimal heating and cooling.
True Convection
Save time and cook food evenly with a True Convection system, which is great for baking and broiling. A heated fan distributes heat all around the oven and keeps the temperature constant. So dishes are cooked quickly and thoroughly.
Reversible Griddle
Prepare a greater variety of grilled dishes without wasting extra space storing two different griddles. With the Reversible Griddle you can cook using either a smooth or ridged surface, and create all sorts of grilled, seared, sautéed and stir-fried meals.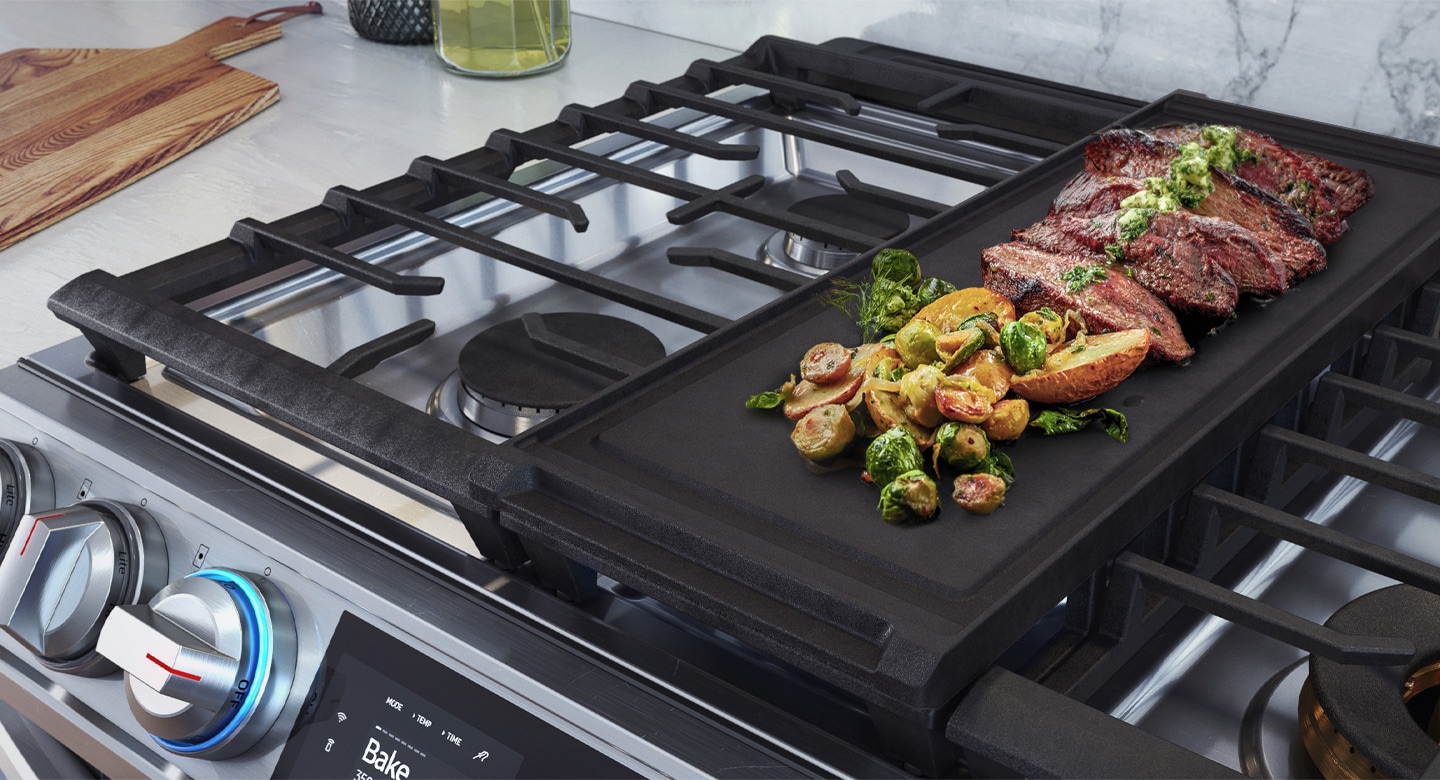 Edge to Edge Grates
Enjoy usability and style with Edge to Edge Grates that minimize unused space. The wider cooking area will accommodate much larger dishes and you can use a greater variety of cookware. Being made of cast iron with a matte finish, the Grates also have a modern appearance, but are very robust.
More joyful, less burdensome cooking
SmartThings Cooking
Make your kitchen experience less stressful. SmartThings Cooking saves time and makes cooking more seamless. It can recommend personalized recipes, generate weekly meal plans, and you can even control your appliances using recipe instructions.
Wifi Connectivity
Save time and do much more with Wi-Fi Connectivity. Simply monitor and control the oven using the SmartThings App*. You can preheat or turn it off and check and adjust the cooking temperature and time.
* Available on Android and iOS devices. A Wi-Fi connection and a Samsung Account are required.
Voice Control
Control the oven with your voice. Using a voice assistant*, such as Samsung Bixby**, Amazon Alexa or Google Assistant, you can simply say what you want the oven to do and it will do it. You can easily turn it on/off, select functions and change settings, even if you're busy doing other things.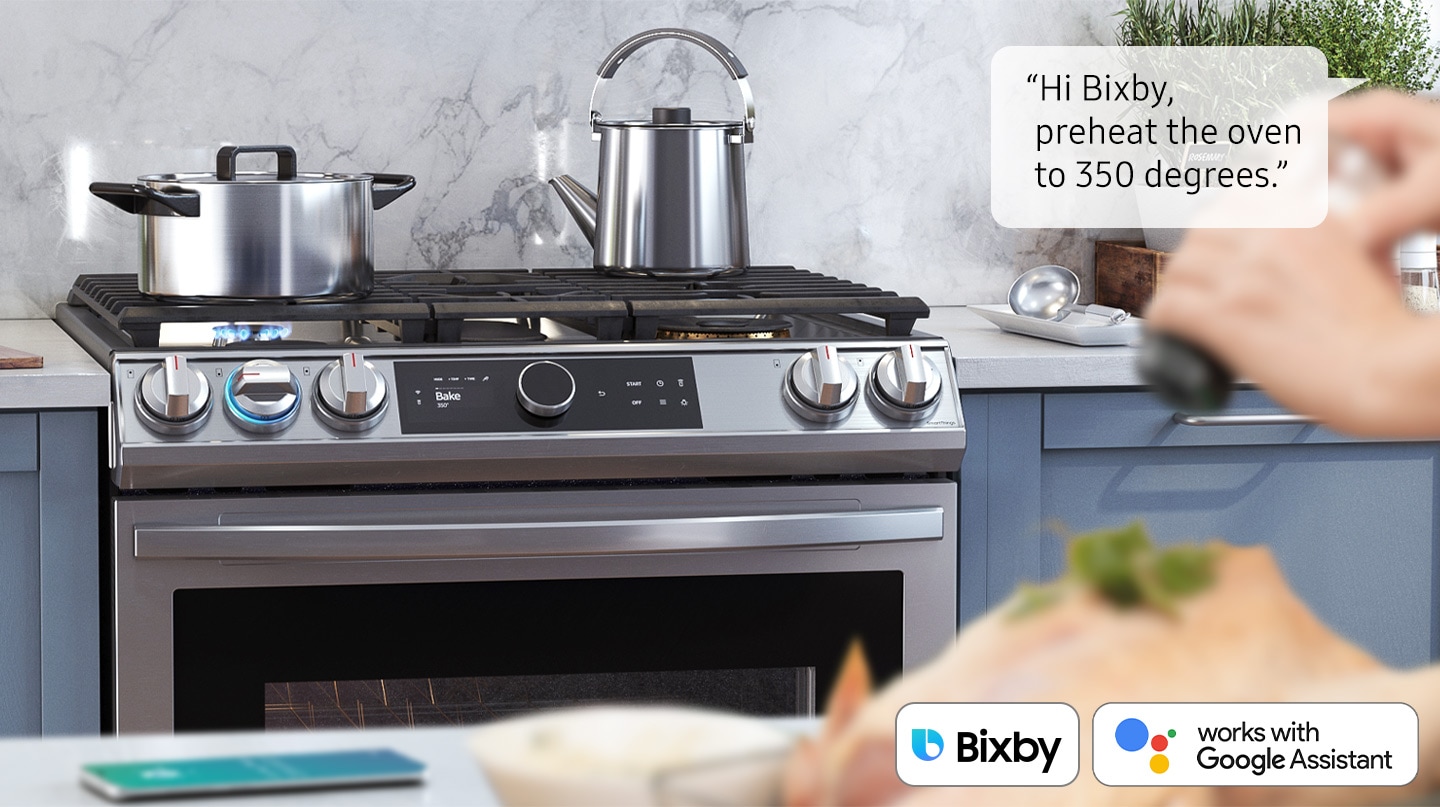 * A Wi-Fi connection is required ** Bixby is Samsung's brand of artificial intelligence (AI) / Internet of Things (IoT) voice assistant. A Samsung Account is required.
Fingerprint Resistant Finish
A special Fingerprint Resistant Finish prevents surfaces from becoming covered in unsightly fingerprints and other marks and smudges. And any fingerprints or marks can be quickly wiped away if they appear.
Self Cleaning
Keep the inside of your oven neat and clean without wasting time and effort scrubbing or using costly cleaning products. A Self Cleaning system heats the cavity to a high temperature to burn off grease and food residue.