Revolutionize Your Wardrobe Care with the LG Styler Steam Clothing Care System – Model S3MFBN
In the fast-paced world we live in, it's not just about having a vast wardrobe; it's about keeping it fresh, sanitized, and ready to wear at a moment's notice. Introducing the LG Styler Steam Clothing Care System, Model S3MFBN, a revolutionary appliance that brings a touch of luxury to your clothing care routine. In this in-depth exploration, we'll delve into the remarkable features and benefits of the LG Styler, highlighting how it can transform the way you care for your clothes while ensuring they remain in pristine condition.
Features of LG Styler Steam Clothing Care System: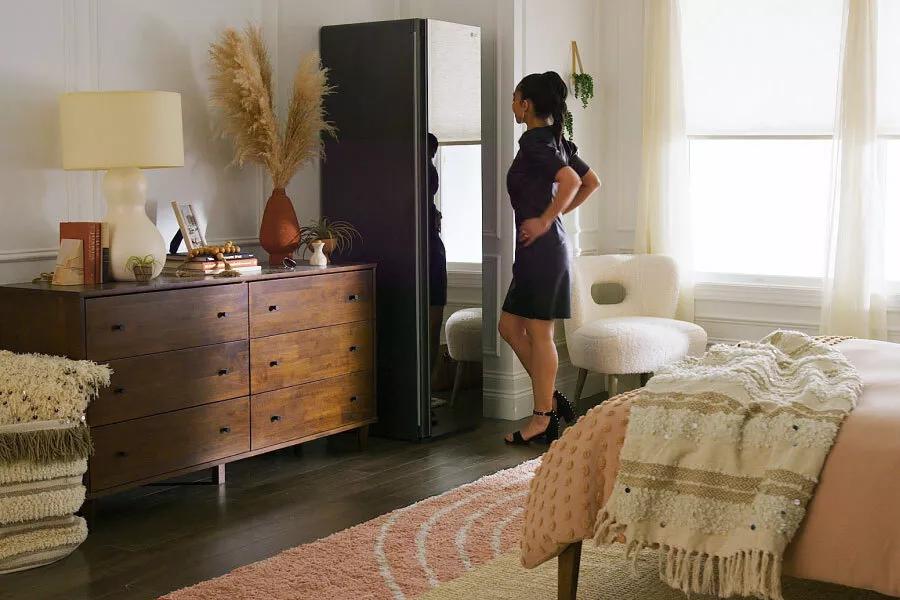 A New Era in Clothing Care
The LG Styler Steam Clothing S3MFBN is not your typical clothing care device; it's a cutting-edge system designed to elevate your wardrobe maintenance to the next level. Whether you're a fashion enthusiast, a busy professional, or someone who simply values impeccable attire, this appliance is poised to become your trusted companion. Let's dive into the features that make the LG Styler Steam Clothing stand out in the world of clothing care.
Anti-Tip Kit for Safety
Safety always comes first, and the LG Styler Steam Clothing S3MFBN acknowledges this with its Anti-Tip Kit. This kit ensures that your Styler remains stable and secure, providing peace of mind as you care for your clothing collection.
Aroma Kit for Freshness
Nothing beats the feeling of putting on freshly laundered and lightly scented clothes. With the included Aroma Kit, you can infuse your garments with a subtle, pleasant fragrance, ensuring that they not only look clean but also smell delightful.
Carpet Install Spikes for Stability
The LG Styler Steam Clothing S3MFBN is designed for stability and ease of use, even on carpeted surfaces. The included Carpet Install Spikes ensure that your Styler stays firmly in place, so you can confidently operate it without any concerns about wobbling or movement.
Drip Tray for Convenience
Accidents can happen, but the LG Styler Steam Clothing S3MFBN is prepared for them. The included Drip Tray is there to catch any excess water or condensation, preventing messes and making your clothing care experience hassle-free.
Hangers and Moving Hanger System
Efficiency and convenience are at the core of the LG Styler Steam Clothing S3MFBN. It comes with 2 Hangers and a Moving Hanger System that accommodates 3 clothes hangers. This system allows you to simultaneously refresh and sanitize multiple items of clothing, saving you time and effort.
Comprehensive Accessories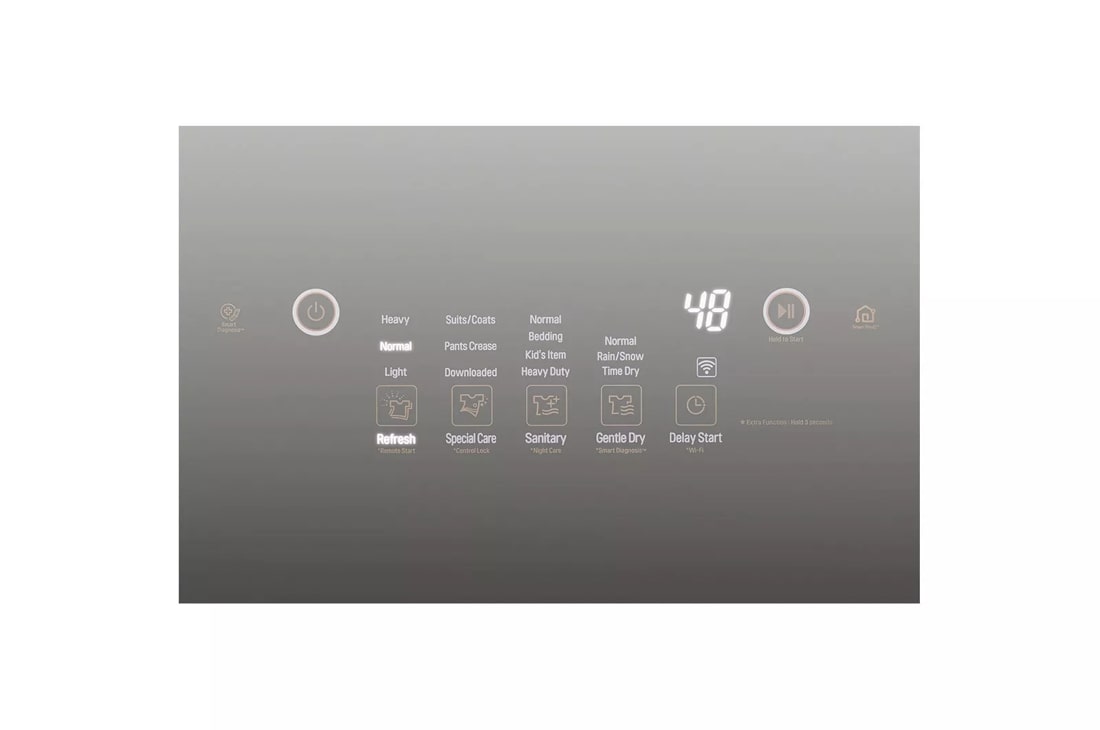 The LG Styler Steam Clothing S3MFBN doesn't stop at hangers. It comes with a total of 12 accessories, ensuring that you have everything you need to care for a wide range of clothing items and fabrics. From pants to delicate garments, this appliance has you covered.
Pants Crease Care Door and Pants Hanger
For those who demand precision in their clothing care, the LG Styler Steam Clothing S3MFBN includes a Pants Crease Care Door and a dedicated Pants Hanger. Your trousers will emerge from the Styler with crisp creases, looking as if they've just been professionally pressed.
No Plumbing Required – Portable Water Drainage and Fill Containers
One of the standout features of the LG Styler Steam Clothing S3MFBN is its convenience. You don't need to worry about plumbing connections. It comes with both a Portable Water Drainage Container and a Portable Water Fill Container, making it incredibly easy to set up and use anywhere in your home.
Rear Leveling Feet for Stability
Stability is crucial when caring for your clothing, and the LG Styler Steam Clothing S3MFBN ensures it with Rear Leveling Feet. These feet provide a solid foundation, ensuring that your Styler remains steady during operation.
Shelf and Versatile Rack
Flexibility is key when caring for a diverse wardrobe. The LG Styler Steam Clothing S3MFBN includes a Shelf and a Versatile Rack, allowing you to customize the setup to accommodate various clothing items, including bulkier pieces like sweaters or bedding.
Impeccable Capacity
With the capacity to accommodate 3 clothes hangers and 1 pants hanger simultaneously, theLG Styler Steam Clothing S3MFBN strikes the perfect balance between efficiency and versatility. Whether you're preparing for a special occasion or simply keeping your everyday clothes in top shape, this appliance can handle the task with ease.
Certifications for Quality and Reliability
Rest assured that the LG Styler Steam Clothing S3MFBN meets rigorous standards for quality and performance. It proudly bears the certification of the Asthma and Allergy Foundation of America (AAFA) and is Intertek Certified, underscoring its commitment to excellence.
Dimensions and Weight
The LG Styler Steam Clothing S3MFBN is designed with your space in mind. With dimensions of 17 1/2 x 72 13/16 x 23, it fits comfortably in your home. The product weighs 172 lbs, ensuring that it remains sturdy during operation while being manageable for setup and relocation.
Cycle Times and Fabrics
The LG Styler Steam Clothing S3MFBN offers an impressive range of cycle times, with 23 downloadable cycles to cater to different fabrics and garment types. From delicate silk to rugged cotton, it's equipped to handle them all with care. Its Gentle Dry feature ensures that even the most sensitive fabrics are treated gently, preventing damage and preserving their quality.
Efficiency and Innovation
The LG Styler Steam Clothing S3MFBN is not just about convenience; it's also about efficiency. It features a Heat-Pump System (Inverter) that optimizes energy consumption while delivering outstanding results. Interior Lights, with 3 LED lights (2 White and 1 Blue), illuminate the interior, making it easy to load and retrieve your garments.
Low Noise Operation and Reversible Door
With a noise level of just 40 dB, the LG Styler Steam Clothing S3MFBN operates quietly, ensuring that it won't disrupt your home environment. Additionally, its reversible door allows for flexible installation options to suit your space and preferences.
RPM (M/Hanger) and TrueSteam® Technology
The LG Styler Steam Clothing S3MFBN's RPM (M/Hanger) of 200 ensures that your clothes are refreshed efficiently. TrueSteam® technology takes clothing care to the next level by effectively reducing wrinkles, eliminating odors, and ensuring that your garments emerge looking and smelling fresh.
Warranty and Electrical Information
Your investment in the LG Styler Steam Clothing S3MFBN is backed by a 1-Year Parts & Labor warranty. Additionally, the Smart Invert Compressor is covered for an impressive 10 years, showcasing the confidence that LG has in the durability of its products. Electrical requirements are 120V, 12.5 Amps for Electric, with a frequency of 60Hz. The product is CSA Listed, further emphasizing its reliability and safety.
Smart Features for Modern Convenience
The LG Styler S3MFBN is designed for the modern home, and that means it comes with a range of smart features that make clothing care a breeze. Downloadable Cycles allow you to access specialized care options, Energy Monitoring helps you keep track of consumption, and Remote Start and Cycle Monitoring let you control your Styler even when you're not in the room.
Smart Diagnosis™ and ThinQ® App Control
Should you encounter any issues or simply need assistance, the LG Styler S3MFBN offers Smart Diagnosis™, allowing you to troubleshoot and identify problems quickly. You can also control and monitor your Styler remotely via the ThinQ® app, making it easy to manage your clothing care from your smartphone.
Voice Commands and Wi-Fi Compatibility
The LG Styler S3MFBN is designed to seamlessly integrate into your smart home ecosystem. It works with Amazon Alexa and Google Assistant, allowing you to control it with simple voice commands. With built-in Wi-Fi, you can connect your Styler to your home network for easy access and control from your devices.
Elegant Mirror Finish and LG STUDIO Branding
Finally, the LG Styler S3MFBN features a sleek Mirror finish that adds a touch of elegance to any space. It's part of LG STUDIO, a brand known for its commitment to premium design and superior performance, ensuring that your clothing care system not only works impeccably but also looks impressive.
In conclusion, the LG Styler Steam Clothing Care System, Model S3MFBN, is a game-changer in clothing care and maintenance. With its innovative features, smart capabilities, and commitment to quality, it's a must-have appliance for anyone who values the impeccable condition of their wardrobe. Whether you're extending the life of your favorite garments or preparing for a special occasion, the LG Styler is your secret weapon for clothing care that goes above and beyond. Upgrade your wardrobe care routine and discover the future of clothing maintenance with the LG Styler S3MFBN.
Customer Support
If you have any query about our shipping process you can check our FAQs Page.
Check our Refund and Returns Policy page for any regarding question.
Terms and Conditions may apply.