Family Hub™
Family Hub™ lets you manage your family's calendars, play music on Spotify, share pictures and stay connected right on your refrigerator.
Family
Family Board
Enrich your family life by sharing news, messages and special moments on the Family Board. Simply use your smartphone and it will synchronize with the Family Hub. You can show photos, post stickers, draw pictures and type or hand-write notes. You can even add a music player.
Calendar
Make sure that you never miss a family event. The Calendar lets you share and check the schedules of family members at a glance. You can update entries on the fridge or from a smartphone and synchronize the schedules with Google and Microsoft 365 calendars.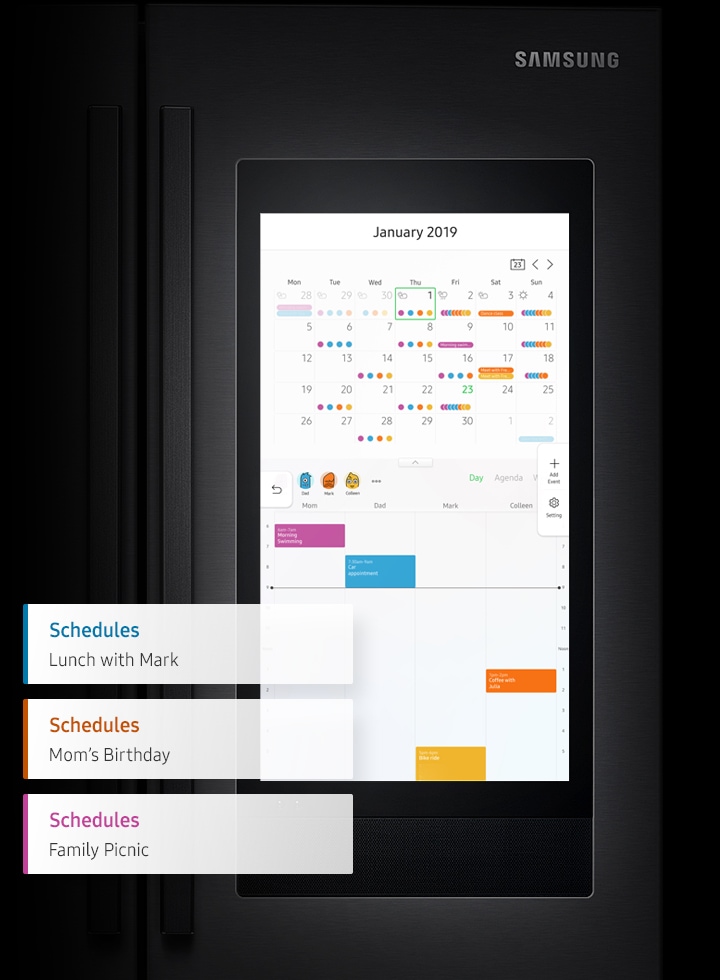 Food
View Inside
See what's in the fridge on your smartphone. The View Inside internal cameras show what food you have, so you can check when you're shopping. It also automatically tags food expiration dates and lets you create a shopping list, food memos or reminders.*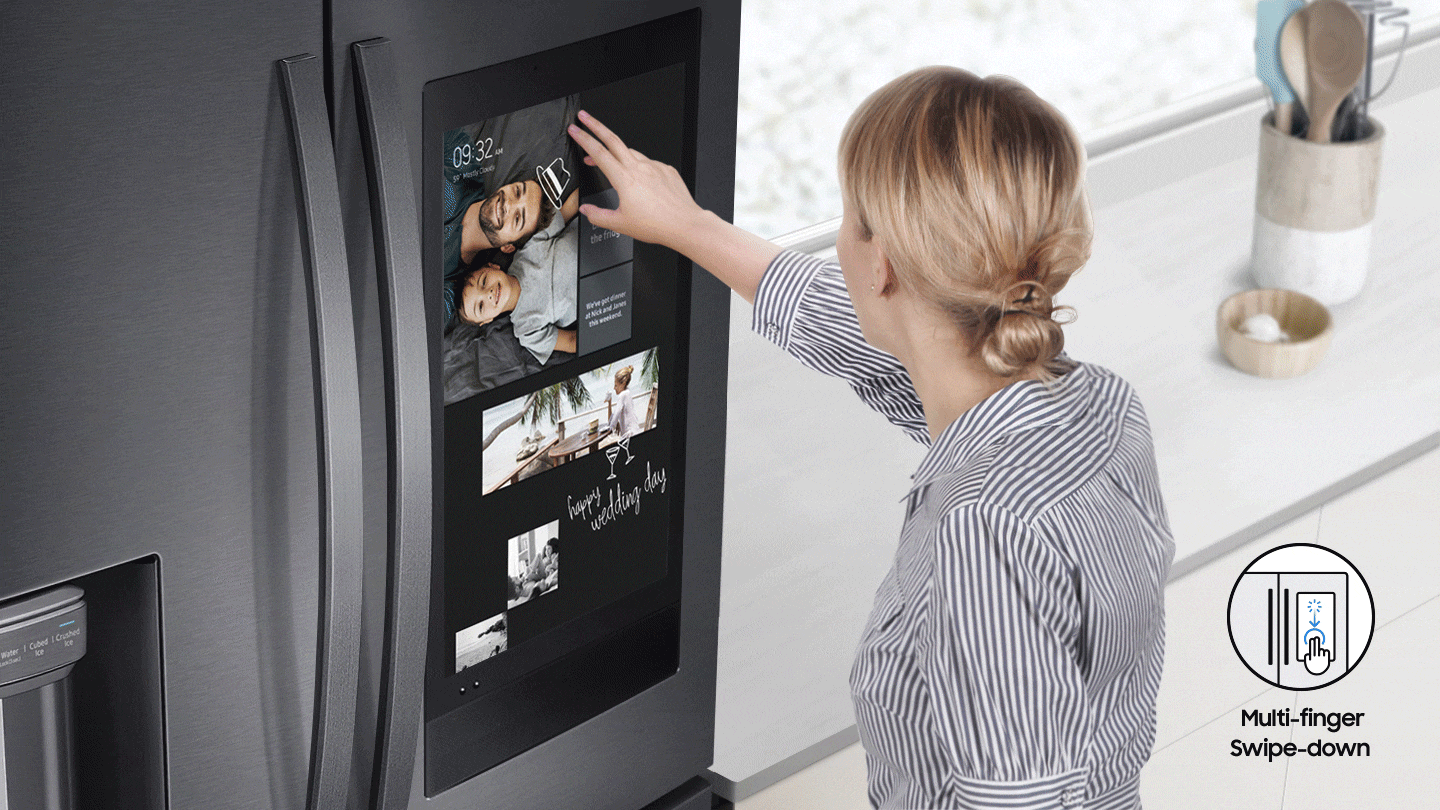 *Data network or Wi-Fi connection is required.
Smart Recipes & Meal Planner
The Smart Recipes App provides delicious recipes with simple on-screen instructions. The Meal Planner App suggests meals to cook, based on your preferences and the food in the fridge. And it lets you create a weekly shopping list.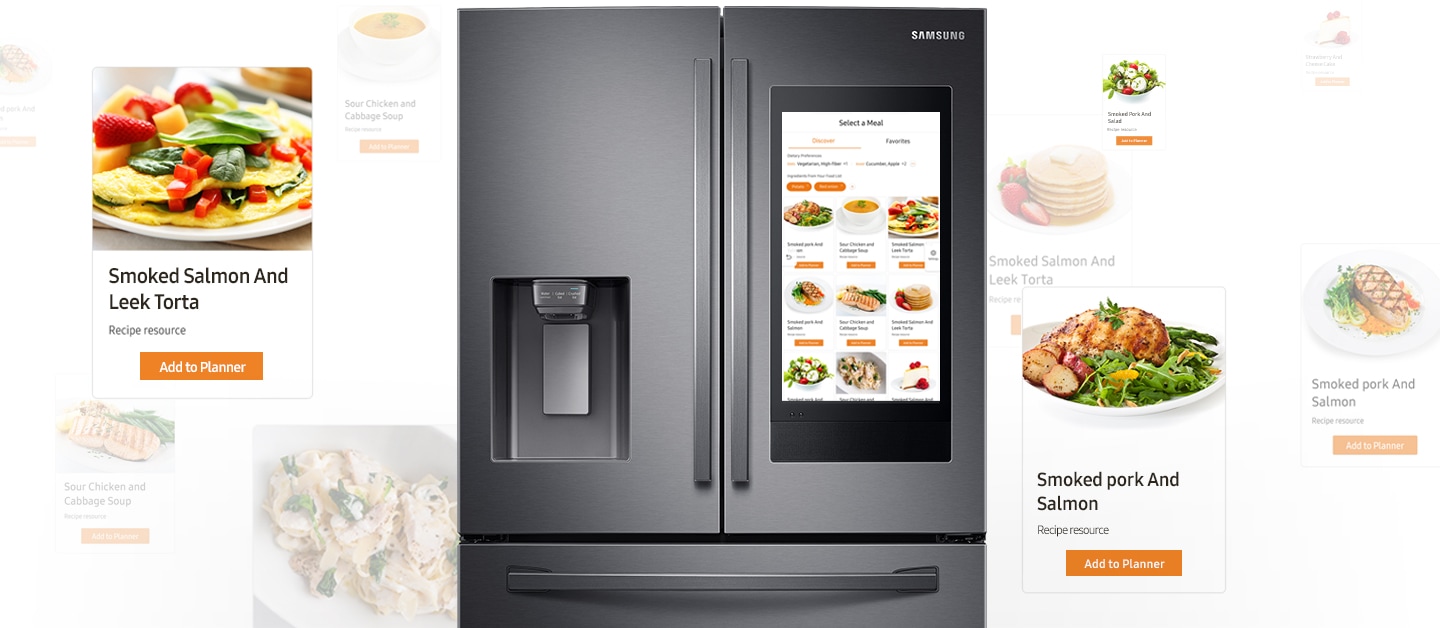 * Available on Android and iOS devices. A Wi-Fi connection and a Samsung Account are required.
Shopping List App
Plan meals and create a shopping list with a Shopping List App. Simply use the screen to add items to your list. If a recipe is recommended, any essential or missing ingredients can be added with a touch or voice command. If you synchronize the list to your phone you can check it in the store.
* Available on Android and iOS devices. A Wi-Fi connection and a Samsung Account are required.
Fun
TuneIn / Spotify / Amazon Music (Music & Radio)
Enhance your cooking pleasure and entertain people at a party. Enjoy seamless music listening to your favourite playlists and songs using Spotify and Amazon Music. Or stream non-stop entertainment with global radio stations, news, podcasts and comedy shows on TuneIn.
*Amazon Music is expected to be available in Canada soon.
SmartView (Phone/TV Mirroring)
Watch mobile content or TV programs while cooking. The SmartView App can display what's on your smartphone or Samsung Smart TV*. Simply open the App, choose a smart device or TV and both screens will instantly show the same content.
* Compatible with ▪ 2015~2017 model of Smart TV: J/K/MU6400↑series ▪ 2018 model of Smart TV: NU7400↑series ▪ 2019 model of Smart TV: Q60R↑series. **Data network or Wi-Fi connection is required.
Connected Living
SmartThings
Turn your home into a smart home with SmartThings*. Using just your voice or a simple touch on your refrigerator's home screen, you can instantly control your compatible smart appliances and IoT devices. You can turn them on/off, adjust settings, co-ordinate activities and limit power usage.
* Available on Android and iOS devices. A Wi-Fi connection and a Samsung Account are required.
Bixby
The Upgraded Bixby artificial intelligence (AI) system* lets you conveniently access a range of optimized and uniquely tailored services and content, like suggested meals, just by using your voice.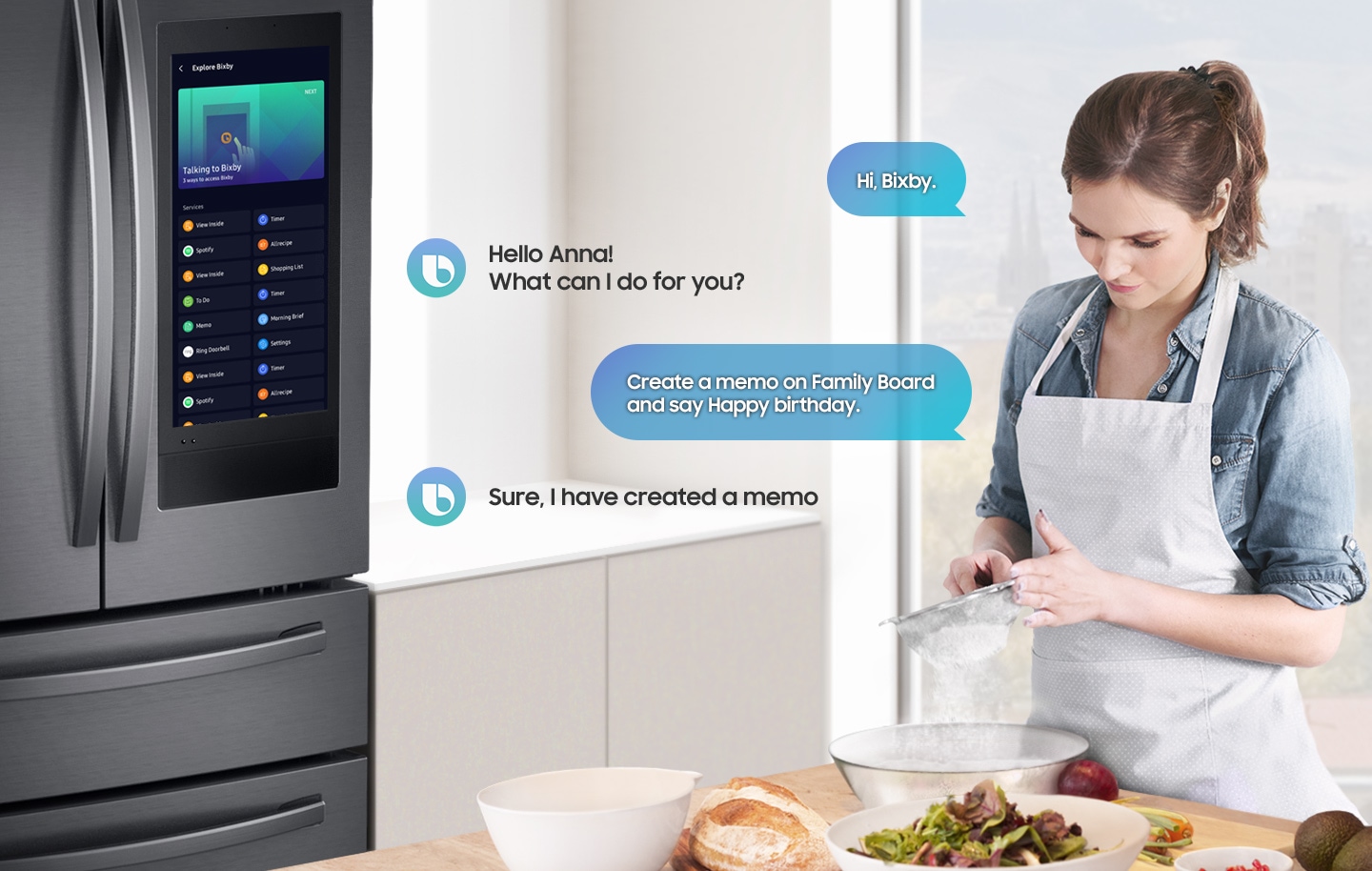 * Samsung Account log-in and data network connection (Wi-Fi or data network) are required to use Bixby. User interface design is subject to change. Not all features available at launch. Bixby recognizes select languages. Others to be supported. Using Bixby Voice may be limited under certain situations. Bixby Voice is designed to recognize certain US English accents and dialects. Some Bixby features may not be available depending on country, region or language.
Bluetooth Call
Make or receive calls when you're cooking without holding a phone. Using Bluetooth connectivity, the refrigerator can seamlessly connect to your smartphone*. So you can easily answer it or call people just using your voice.