Elevate Your Laundry Experience with the Samsung Top Load Washer – 5.0 Cu. Ft. Top Load WA44A3205AW White
Introducing the Samsung Top Load Washer – a washing machine designed to deliver a superior laundry experience with cutting-edge features and technology. Whether you're dealing with a week's worth of family-sized loads or bulky comforters, this washer is up to the task, and it does so while being gentle on your clothes but tough on dirt.
Features of Samsung Top Load Washer:
Family-Sized Capacity: Tackle Big Loads with Ease
One of the standout features of this washer is its generous 5.0 cu. ft. capacity. It's built to handle even the largest family-sized loads and bulky comforters with ease. No more splitting up loads or worrying about cramming everything into the washer. With this capacity, you can breeze through your laundry in no time.
Active Wave Agitator: Keeping Clothes Tangle-Free
The Active Wave agitator in this Samsung Top Load Washer is designed with a unique wing shape and size that ensures smooth spins. This innovation not only helps in cleaning your clothes thoroughly but also prevents them from tangling around the central pillar. Say goodbye to the frustration of untangling clothes after each wash.
Diamond Drum Interior: Protecting Your Fabrics
The Diamond Drum interior features small water holes that play a crucial role in fabric care. They prevent snagging and damage to your clothes during the wash cycle, ensuring that your fabrics remain in excellent condition even after numerous washes. With this washer, you can trust that your clothes are receiving the care they deserve.
Customized Wash Options: Tailored to Your Needs
No two loads of laundry are the same, and this washer understands that. It offers a range of temperature settings, including Hot, Warm, Eco Warm, Cool, and Cold, allowing you to customize each wash to suit your specific needs. Whether you're washing delicates or heavily-soiled items, you have the flexibility to choose the ideal temperature setting.
Extra High Water Level: Soaking for Deep Cleaning
For those larger or heavily-soiled loads that require a thorough soak, the Extra High Water Level option has you covered. It ensures that your laundry gets the soaking it needs to remove tough stains and grime effectively. With this feature, you can confidently tackle your dirtiest laundry challenges.
Vibration Reduction Technology PLUS: Quiet and Reliable
Running a load of laundry shouldn't disrupt your peace and quiet, and with Vibration Reduction Technology PLUS, it won't. This washer minimizes noise and vibration to ensure that you can run a load day or night without disturbance. It's the ideal laundry companion for any time of day.
Smart and Stylish: Making Laundry a Breeze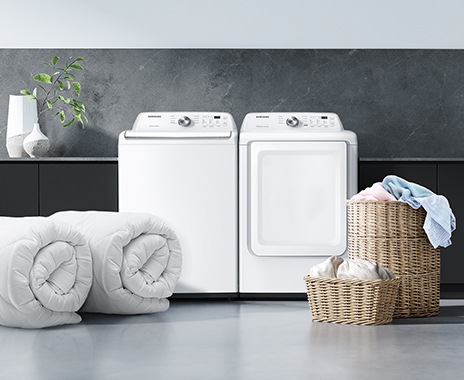 The Samsung Top Load Washer doesn't just excel in performance; it's also smart, stylish, and convenient. The Smart Care feature connects with the compatible app on your smartphone to diagnose any issues and provide easy solutions. Say goodbye to the frustration of troubleshooting problems.
Self Clean Technology: Fresh and Clean Every Time
Maintaining the cleanliness of your washer is crucial for optimal performance. With Self Clean technology, this Samsung Top Load Washer keeps its interior fresh and clean. It even notifies you every 20 wash cycles that it's time for a cleaning, ensuring that you never miss this essential maintenance step.
Soft-Close Lid: Safety and Quiet Convenience
The soft-close lid of this washer adds an element of safety and quiet convenience to your laundry routine. It gently closes without any sudden slamming, ensuring a noiseless operation. This thoughtful design feature enhances the overall laundry experience.
Crisp White Finish: Elevating Your Laundry Room
With its crisp white finish, this Samsung Top Load Washer adds a clean and sophisticated aesthetic to your laundry room. It effortlessly blends into any space, contributing to a visually appealing and organized laundry area.
In conclusion, the Samsung Top Load Washer – 5.0 Cu. Ft. Top Load WA44A3205AW White is a washing machine that brings together advanced technology, a spacious interior, customized wash options, and a host of convenient features. It's designed to provide you with a laundry experience that's not only efficient but also gentle on your clothes. With its smart capabilities and stylish design, it's a valuable addition to any modern home. Upgrade your laundry routine and experience the difference with the Samsung Top Load Washer.
Customer Support
If you have any query about our shipping process you can check our FAQs Page.
Check our Refund and Returns Policy page for any regarding question.
Terms and Conditions may apply.